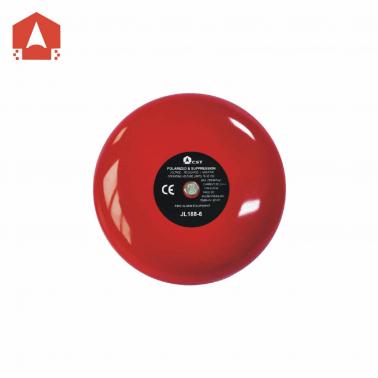 8 inch Bell:JL188-8
General Description
The JL188 Electric bell of notification appliances offers a wide range of Sound, for wall and ceiling applications, indoors and outdoors. They are designed to be used in 24 volt DC systems.
Features and Benefits
Compatible with all the conventional fire alarm control panel
High sound level up to 95dB
Easy installation baracket included
Steel material
Technical Specifications
Dimensions: Diameter150mm, Height 45mm(JL188-6)
Weight: Net Weight 580g, Gross Weight 650g
Operating Temperature Range: -10°C to 50°C
Operating Humidity Range: 10% to 93% Relative Humidity, Noncondensin
System Voltage (nominal): 24 VDC (16V~ 30VDC)
Alarm Current: 70 mA @ 24 VDC
Alarm Sound Intensity: Minimum 95dB
Installation Guidelines
All wiring must be installed in compliance with the Nationa Electrical Code, applicable state and local codes, and any special requirements of the local Authority Having Jurisdiction.
Ordering Information