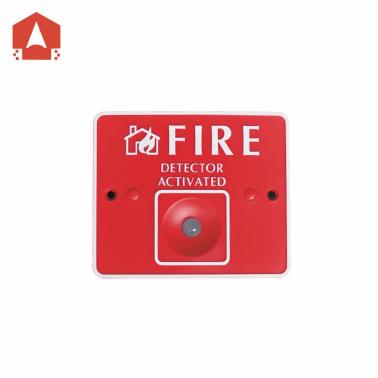 Remote LED:MD111
General Description
The device is remote LED uses a state of-the-art designs. This LED is designed to be used with detectors. One 8mm LED provide local 360° visible alarm indication. They flash with the same as detector that be connected.
Features and Benefits
Compatible with all the conventional fire alarm control panel
8mm Big Size LED
Outside two holes provide 83mm(USA)
Inner two holes provide 59mm(Europe)
Wiring Terminals provided on the PCB board
Technical Specifications
Dimension: 102X86mm
Height (including mounting base): 32 mm
Weight: 50 g
Operating Temperature Range: -10°C to 50°C
Operating Humidity Range: 10% to 93% Relative Humidity, Noncondensing
Latching Alarm: Reset by momentary power interruption
System Voltage (nominal): 3 VDC
Alarm Current: 20 mA @ 24VDC

Installation Guidelines
All wiring must be installed in compliance with the Nationa Electrical Code, applicable state and local codes, and any special requirements of the local Authority Having Jurisdiction.