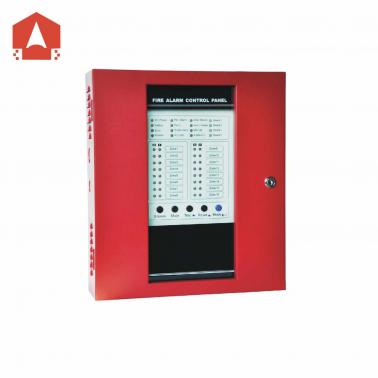 Conventional Fire Alarm Control Panel CK1016
General Description
The CK1000 Series Conventional Fire Alarm Control Panel is a 24 volt, four to sixteen-zone, Class B, Conventional Fire Alarm Control Panel. Designed exclusively to meet the latest market requirements and future ULC codes, the highly cost-effective CK1000 Series can be used in a variety of low- to mid-sized applications.
Features
Four, Eight, Sixteen Zone Style B (Class B) Initiating Device Circuits (IDCs), All zones accept two-wire smoke detectors and anynormally-open contact devices.Two Supervisory Input with DC12V output, ideal to connect security alarm devices.
Three General Alarm, Trouble and Supervisory, Form A Relay Output.
One, Two, Four Built-in Sound Output, Style Y(Class B) Notification Appliance (Signal) Circuits (NACs), NACs may be programmed:Silenceable or Non-Silenceable.
3.0 amps of total system power. Resettable DC24V & Non-resettable DC24V Output.
Zone Input Short Circuit can be set to "Alarm" or " Fault" mode.
RS485 Communication Port (optional).
Automatic/Manual mode can be programmed.
Disable/Enable control per Zone (IDC) can be programmed.
Disable/Enable Sound Output(NACs) can be programmed.

Technical Specifications
AC POWER: 220VAC, 50 Hz.
BATTERY:Sealed lead-acid batteries only. Maximum charging circuit: 27.6VDC @ 0.8 amp for normal flat charge. Maximum battery charger capacity: 18AH battery.
NOTE: Two 10AH batteries can be housed in the cabinet. Larger batteries require a separate battery box.
Total DC24V system power: 3.0 amps.
Maximum current per NAC: 1.25 amps.
Maximum battery charging capability: 18 AH.
Resettable four-wire smoke detector power output.
Non-resettable power output.
Integral Form-A Alarm, Trouble and Supervisory relays, rated at: 2.0 amps @30 VDC (resistive), 2.0 amps @ 30 VAC (resistive).
Installation Guidelines
All wiring must be installed in compliance with the Nationa Electrical Code, applicable state and local codes, and any special requirements of the local Authority Having Jurisdiction.
CABINET AND MOUNTING
Cabinet physical dimensions: 40.0 cm high x 35.0 cm wide x 11.5 cm deep.
Carton package dimensions:: 48.0 cm high x 42.0 cm wide x 18.5 cm deep.
Cabinet net weight: 6.0 Kg. (without batteries).
Cabinet gross weight: 6.6 Kg. (without batteries).
Mounting: The cabinet mounts using two key slots at the top of the back and two additional 6.5mm diameter holes at the bottom.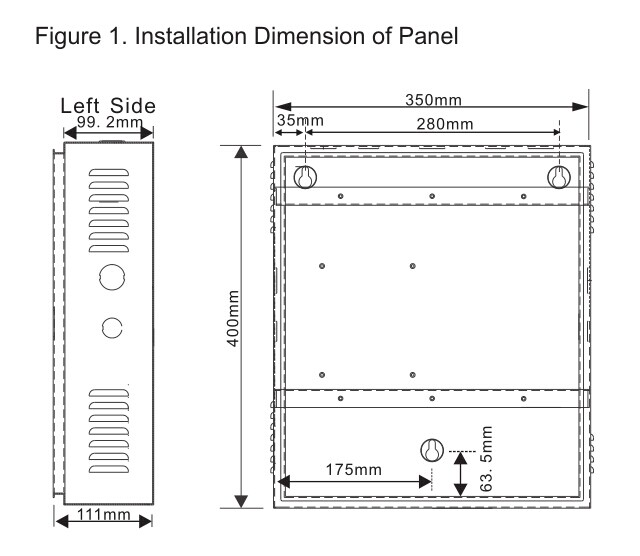 Ordering Information