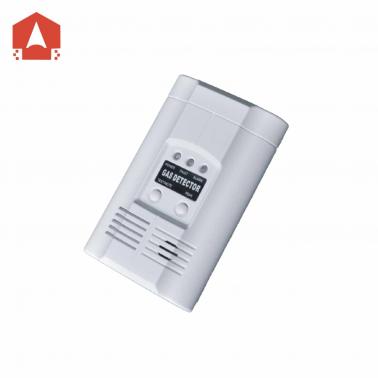 DC Powered Wire-In Combustible Gas Detector
Description
The gas alarm is designed for single station use. Small and compact, the design and color makes it ideal for use in the home, small commercial properties, and recreational vehicles. It is intended to detect leakage of natural gas (methane gas), town gas, and bottled gas (propane gas). The unit is designed for plug-in applications. The gas alarm can be mounted high (for methane gas) or low (for propane (LPG)gas). It is equipped with a sturdy mounting bracket for quick,easy, and secure installation.
Features and Benefits
Detect all sorts of combustible gases, natural gas (methane), bottled gas (propane), LPG (Liquefied petroleum Gas), LNG (Liquefied natural gas), coal gas, including town gas.
Power Input Range - AC220V
Loud 80dB alarm and LED warning light.
High quality catalytic combustion gas sensor.
Self diagnostic function by MCU intelligent software.
Excellent reliability & High stability.
Ideal for all kitchens.
Test/Reset Button - Tests the alarm electronics and resets the unit during alarm.
Power LED - Indicates alarm is receiving power and operating properly.
Alarm/Fault LED - Illuminates when in alarm/fault mode.
Technical Specifications
Power Source: AC220
Power Consumption: <1.5W(Standby), <3W(Alarm)
Sensitivity: LNG 5000ppm (10%LEL )
Audio Alarm: 80dB at 10ft(3meters)
LED: Green, Normal; Red, Alarm; Yellow, Fault
Temperature Range: -10°C to 50°C
Humidity Range: 5%-95% relative humidity (RH)
Size: 76mm Width x 122mm Height x 38mm Depth
Weight: 265g
Installation of Detector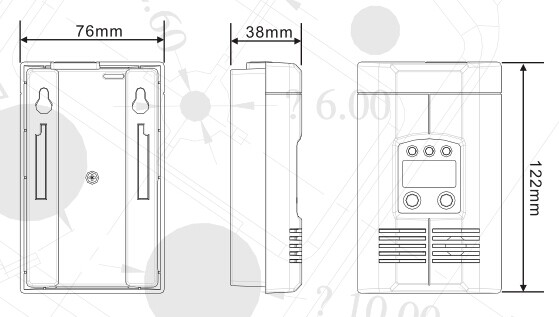 Ordering Information