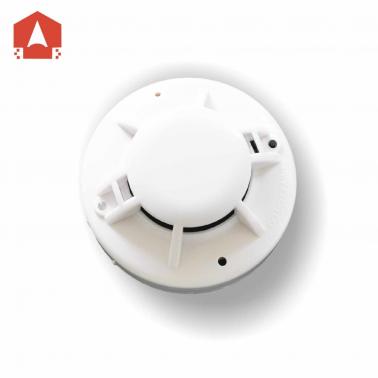 DC Powered Wire-In Combustible Gas Detector
DESCRIPTION
The gas alarm is designed for single station use. Small and compact, the design andcolor makes it ideal for use in the home, small commercial properties, and recreationalvehicles. It is intended to detect leakage of natural gas (methane gas), towngas, and bottled gas (propane gas). The unit is designed for DC wire-in applications.The gas alarm can be mounted high(for methane gas) or low (for propane (LPG) gas). It isequipped with a sturdy metal mounting bracket for quick, easy, and secure installation.
FEATURES
Detect allsorts of combustible gases, natural gas (methane), bottled gas (propane), LPG(Liquefied petroleum Gas), LNG (Liquefied natural gas), coal gas, including town gas.

Easy toinstall, mounting bracket included.

Loud 75dBalarm and LED warning light.

Highquality durable sensor.

Selfdiagnostic function by MCU intelligent software.

Excellentreliability & High stability.

Ideal forall kitchens.



TECHNICAL SPECIFICATIONS
Unit Dimensions: 103mm (D) x 55 mm (H)

Color: Ceiling White

Weight: 155g

Operating Temperature: -10°C to +50°C

Ambient Humidity: ≤95% RH

Alarm Horn: 75dB at 3m (10 feet)

Operating Voltage: DC9-28V

Power Consumption: <2W (Standby), <5W (Alarm)

Value of Detection Threshold (Lower Explosive Limit): Natural Gas: 5000ppm (10% LEL)

Method of Alarm: Flashing Red LED with 75dB alarm

Warm Up Time: approximately 120 seconds

Alarm Output: Relay Output (Normal Open 2A@DC24V)